WHO WE ARE
We Design And Build The Best Pasta Tools
GIORDIS is the result of our passion for Italian cuisine, a passion that inevitably binds us to one of its wonders, Pasta.
We are producing and selling unique wooden pasta boards, customizable pasta cutters and other useful accessories used during the preparation of handmade pasta which are suitable for a simple pasta lover and also a Chef.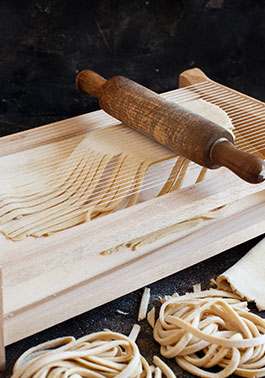 The preparation of the pasta at home, for someone, may look like a difficult process, but when you have the right tools for expressing at the best way your creativity, it will be easier than you think.Our pasta boards are made with solid & high quality woods such as: cherry, walnut and maple wood.We have created some kinds of pasta boards for the preparation of "ravioli" giving the possibility to choose the size and the quantity that you desire to do at the same time.Other types of pasta boards were designed to create 2, 3 or 4 different patterns in a single pasta board, so one can prepare different types of pasta such as: gnocchi, garganelli, cavatelli, capunti, strascinati.
Like all wooden kitchen tools, these boards should be conditioned periodically to prevent drying out and cracking out.One other essential tool for preparing ravioli, is our innovative brass pasta cutter. Our design offers the possibility to customize the final product by choosing the handle and the wheel of your preference.Our collection offers additional accessories that can be used in the whole process of preparing.