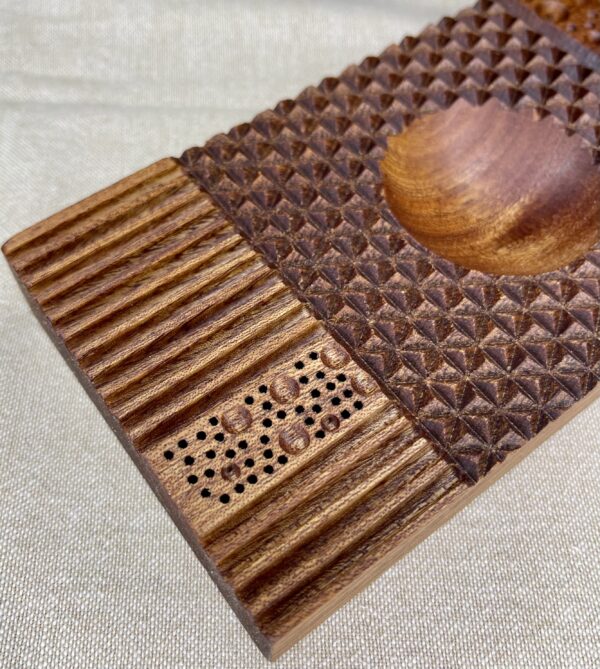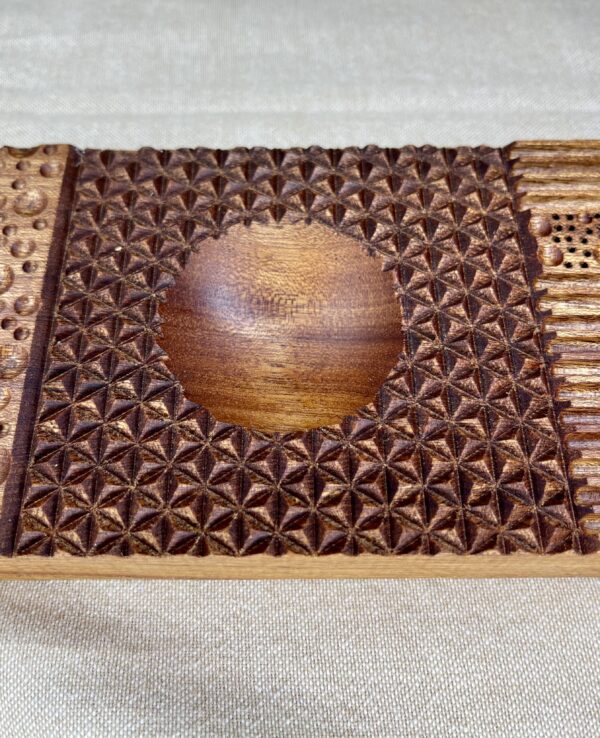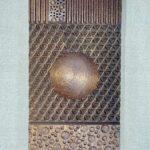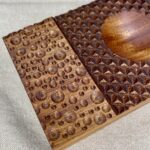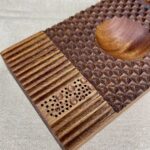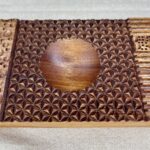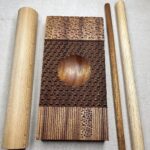 GIORDIS MIXED PASTA Mold THREE – Sapele – M301SA
56.90 €
Dimensions: 180 X 90 X 22-24 mm
Material: West African Sapele Wood 
Production method: Handmade
The GIORDIS MIXED PASTA MOLD ™ is a unique pasta board used for making different types of pasta. It is handmade out of a beautiful Sapele Tree lumber and ideal for quickly preparing multiple pasta variations. 
Pasta variations (not limited to): Raviolis, Garganelli, Gnocchi, Cavatelli, Capunti, Malloreddus (Sardinian Gnocchi), Strascinati or Rigatoni. The surface of these boards is perfect for imprinting designs in sheets of pasta for even Maltagliati and Corzetti.
The Mixed Pasta Mold™ allows for creative freedom and pushes the limits on the types of pasta you can create. Each board is designed using 100% organic real hardwood. If you love making homemade pasta as much as we do, you must add the GIORDIS Mixed Pasta Mold™ to your collection of tools.  
All of our boards are crafted from high quality hardwoods and finished using Odie's Oil, an American premium quality mineral oil that is food safe, solvent free, non-toxic and safe for all including kids, pets, and the environment. 
The GIORDIS MIXED PASTA MOLD™ is perfect for all pasta lovers and pasta-making aficionados and would be a great instrument for all cooks and even for the most renowned chefs. 
Our team at GIORDIS® is focused on pushing the limits on Design, Quality and Practicability. Each GIORDIS MIXED PASTA MOLD™ has a unique wooden structure and is especially handmade for your kitchen.
WOOD / The wood used to build this board comes from the West African Sapele Wood. We chose this lumber because it is famous for its appearance and hardness. Its colors vary from golden to dark reddish-brown or purplish-brown which gives it a very rich appearance. Its color darkens over time and is highly sustainable. One of the defining characteristics of Sapele is the interlocking grain patterns. It is a hard, medium-density wood that has great durability. Once finished using Odie's Oil, it is completely water-resistant while retaining its pleasant aroma. 
DESIGN / Mixed board 'THREE' brings together a mix of shapes like pyramids, circles, straight lines and dots that provides many options for creating tasty homemade pasta with interesting styles and forms. Making homemade pasta is an old tradition and GIORDIS is proud to evolve this tradition with the multi-purpose MIXED Pasta boards. The MIXED PASTA MOLD™ Collection was created to ensure that each person using them, afterwards can call themselves 'an artist'. This design is available in 5 types of wood. Please enjoy yourselves making delicious pasta variations using GIORDIS MIXED PASTA MOLD™.
INCLUDED IN THE PACKAGE: 
Each mold includes three wooden rolling pins which come in various wood types.

Rolling Pin 1 (30 mm diameter x 20 cm length) – Used to attach the two layers of pasta to make the ravioli. 

Rolling Pin 2 (15-17 mm diameter x 224 cm length)

Rolling Pin 3 (8-10 mm diameter x 24 cm length) 

Board-Care Manual